After I ordered myMeta Quest Pro controllers, they shipped quite quickly. They were ordered on a Sunday and arrived that Thursday. I was excited to open the new controllers as ever sinceApple started making the unboxing of a new product an experience, other companies took note and I was curious about the presentation Meta would put on for these controllers. Spoiler alert, it is fantastic. Here is my unboxing experience of the Meta Quest Pro controllers.
First off, you notice that since the Meta Quest Pro controllers have arechargeable battery, the shipping box has this label on it.
When you open the shipping box you don't initially see the face of the actual controller box, you see the back - I'm not sure if this was on purpose or a potential packaging mistake.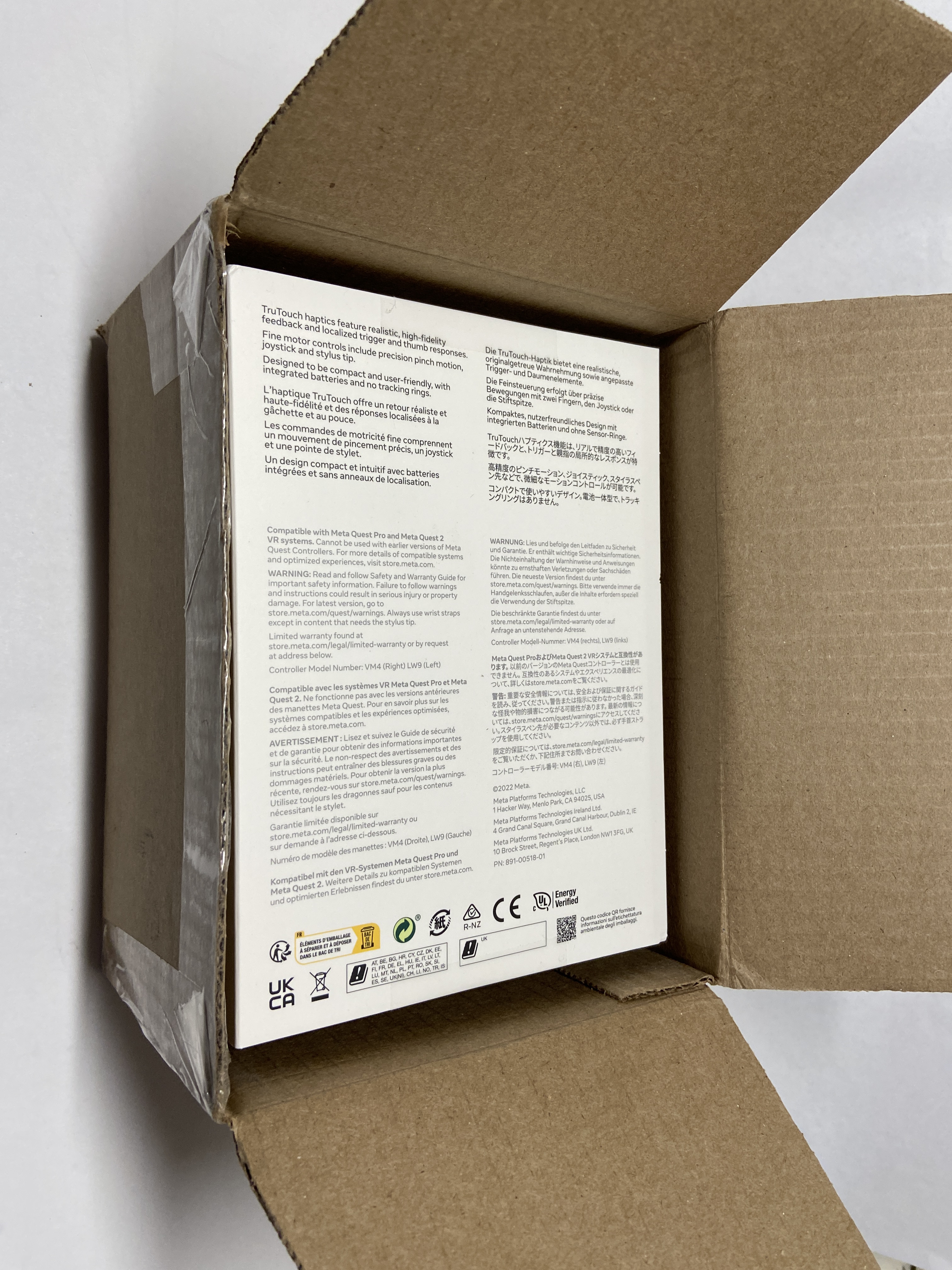 The outer front sleeve of the controller box is vibrant and highlights the controllers and charging dock nicely.
The thick cardboard box that houses the controllers has a simple white Meta Quest logo on them, and flips open vertically to simply reveal the controllers.
The controllers are snugly nestled in place, with even the wrist straps perfectly laid out for a flawless presentation of your new electronics.
Once taken out of the box, you start to see the first of many protective coverings they have on them.
The first covering is on the face of the controller and has a symbol that shows you to hold the button for two seconds to power it on.
Underneath the controller section is the equally minimalist, yet clean presentation of the charging dock for the controllers and power plug.
The power plug and charging dock have their own protective covering to protect their glossy housing from any initial scratches or dings from shipping or packaging.
The charging port also has a sticker on the bottom for two reasons, one to show you how to properly connect your controllers to the dock. Secondly, is that the bottom of the charging port has a sticky ring around it so it adheres to the surface you place it on.
By aligning the magnetic pins, you'll hear a sound and vibration if you've placed the controllers properly on the charger, along with seeing a light indicating its charge level.
There is one last USB-C to USB-C cable that I wasn't sure what it did, but it is for charging your headset at the same time through the controller dock.
Instruction manuals, warranty info were also included, along withrubber tipsif you wanted to write on theWorkrooms whiteboard in VR.
Youcannot have two sets of controllers paired at once, so once you start up yourMeta Quest 2, you will need to power the controllers up and along with yourMeta Quest app, choose "Devices" and follow the prompts. Wait for them to pair and allow time for a software update. This is an important note, your Quest will want you to restart it, but wait until your Meta Quest Pro controllers are done updating otherwise you will have issues.
Once the controllers are paid up, you can charge them and your headset with the included docking station.
I think it is a very elegant solution and design to charge all your devices at once.
Overall, the unboxing experience of the Meta Quest Pro controllers was a fun one. They really did a nice job of making the entire experience feel very premium and high-end. Lots of protective coverings that ensured you have no nicks or scratches, straightforward instructions and components with just enough text to get you started quickly gave me a really great first impression of these controllers. If you want a detailed look at how to pair the controllers and get set up,Meta has a great YouTube video.
I'd love to hear your feedback on theRuff Talk Discordabout your thoughts on how packaging has really become a part of the experience and what you think of how Meta presented these. Until then, I hope your next VR experience is a memorable one.